Launch of Inexpensive and Easy 200m Ranging LiDAR Solution at mapry
Mapry Co., Ltd. (Headquarters: Tanba City, Hyogo Prefecture, Representative Director: Keiji Yamaguchi, hereinafter referred to as "Mapry"), which provides the geospatial information application platform service "MAPLY" useful for forest management and local activities, has announced that it will provide a long-distance option for "MAPLY" as a paid option. We have started selling LiDAR devices.
Using the application "mapry" installed on smartphones and tablets, it is possible to easily operate, acquire data, and check analysis results of long-distance LiDAR devices in the field.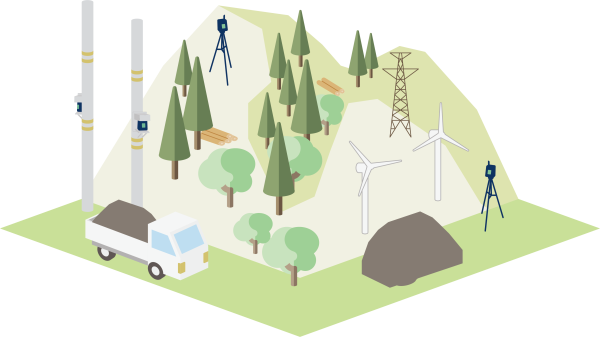 ■ Usage scenarioIt
can be used in various scenes such as forest measurement (ground surface / standing trees), landslide monitoring, on-board mounting, equipment mounting, soil volume calculation at the construction site, grasping the shape of large-scale structures, remotely checking the situation at the site.
■
Long-distance
LiDAR
device overview
・measurement distance (
200m
),
・measurement operation and data confirmation can be performed on the spot on a smartphone or tablet
・
Solid state
without rotation mechanism
Equipped with formula
・
FOV
(
viewing angle)
70
degrees (measurement can be performed by changing the irradiation direction during scanning),
・GNSS
and
IMU
functions, Point cloud data acquires high-precision coordinate information
(RTK
option),
rental plan available
・customization support
(simultaneous analysis by installing multiple units, simultaneous image acquisition
,
RTK
support, etc.)

■
Selling price
254,970
yen
~
388,070
yen (tax included)
※
Separate consultation according to the use application

■About Mapry
Mapry is a service for all those involved in surveying, forestry, disaster prevention, agriculture and construction. We provide solutions that can easily acquire and analyze 3D data, which has been difficult to bear the cost of surveying equipment and operate and analyze the equipment.
■Company Profile
Company Name : Mapry Corporation
Location : 165 Tada, Kasuga Town, Tanba-shi, Hyogo Prefecture (Head Office)
Sanyo Rokkaku Building No. 503, 84 Yanagisui-cho, Nakagyo-ku, Kyoto (Kyoto Office)
Representative Director Keiji Yamaguchi
HP : https://mapry.co.jp
Inquiries about this matter:info@mapry.co.jp